Emily's eye care mission to Malawi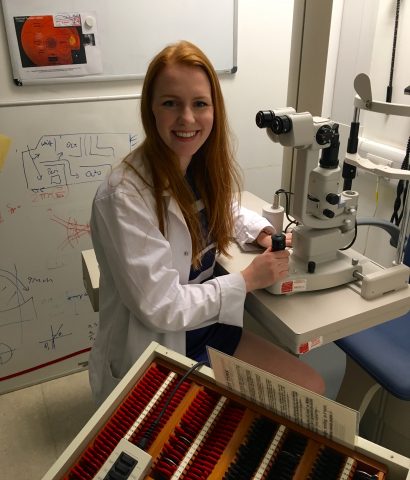 Optometry student Emily Hancock is embarking on a 'once in a lifetime opportunity' to provide free eye care for people in Malawi this summer.
Emily, 19, from Netherton in Huddersfield, travels to the south east African country in July and will spend a month providing free eye tests and suitable glasses to local people, along with 11 other optometry students and three qualified supervisors.
Emily is in the second year of her BSc in Optometry degree at Cardiff University. She also works as an optical assistant at Valli Opticians branches in Huddersfield during her Christmas, Easter and Summer breaks. After she graduates Emily will take up a post as a pre-registration optometrist at the Valli Opticians Wakefield branch.
The former pupil of Huddersfield Grammar Prep School, Silcoates Senior School in Wakefield and Greenhead College in Huddersfield, said: "I believe this trip is a once in a lifetime opportunity to use my new skills to help others who are in desperate need of eye care and spectacles – something many people in the UK take for granted. The thought of helping hundreds of people as well as improving my skills as an undergraduate optometrist is very appealing to me.
"I expect the trip to be very hard work as we are aiming to see 2000-3000 patients between 12 of us in very different conditions to what we are used to. But I also believe it will be incredibly rewarding as we will be improving the vision of so many people including children, allowing them to learn, and parents, allowing them to work to provide for their families. We will also be teaching necessary optometry skills to students in the only optometry school in Malawi. This will ensure our hard work can continue after we have left."
The group of volunteers are funding the trip themselves and so are raising money for the costs, such as purchasing spectacles to take with them, other essential equipment, accommodation and travel when they arrive in Malawi. The team needs to raise a total of £9000 to fund the trip.
Emily added: "Any donation, no matter how small, will help us to dramatically improve people's lives by allowing them to become independent. We will also donate hats, clothes, sunglasses and any leftover spectacles to the local communities and hospitals at the end of our trip."
For further information about the trip or how you could help visit https://www.gofundme.com/btzt8r-malawi-project-2018