Look the dogs with our Summer promotion!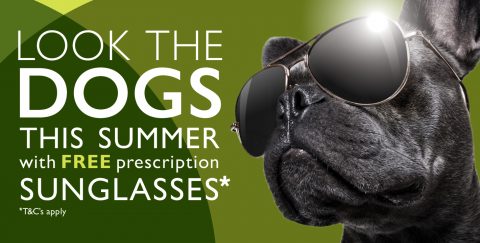 We're delighted to launch our Summer 2019 promotion today! Get a FREE pair of prescription sunglasses when you buy a pair of glasses (t&c's apply*).
We have a stunning range of sunglasses available so it's the perfect opportunity for you to get ready for a stylish summer while protecting your eyes at the same time.
Wearing a good pair of sunglasses is just as important as applying sun lotion. Here's why –
UV protection
Too much UV exposure has been associated with many long-term eye issues.
The most well-known issue is cataracts. Over years of exposure, UV rays can damage the lens inside your eye, making it cloudy as the proteins unravel and tangle (which is what creates cataracts). Surgery is needed to remove those cataracts. So, you should consider your sunglasses as preventative medicine.
Meanwhile, short-term problems like photokeratitus (aka snow blindness) occur when light reflects from snow or water, giving your eyes a super dose of UV causing "sunburn."
You should always opt for sunglasses that block 99% or 100% of all UV light. UV absorption up to 400nm equals 100% UV absorption. Your eyes need protection from the sun all year round, even on cloudy days. Cloud cover only reduces the amount of UV light by 10%. In the morning and evening we also get more light from reflective surfaces like roads. Because UV is found in the invisible part of the light spectrum, we can't see it or feel it. Look out for glasses carrying the "CE" Mark and British Standard BS EN ISO 12312-1 which ensure the sunglasses offer a safe level of UV protection.
Coverage
The more eye area your sunglasses cover, the more protection they give your delicate skin around the eye area. Plus, the larger glasses provide extra UV protection by blocking rays that come in from the side, meaning you squint and frown less, minimizing potential wrinkles and frown lines. Wrap-around sunglasses do a great job of blocking the sun's rays from coming in on the sides.
Polarising Lenses
Light usually scatters in all directions. When it's reflected from flat surfaces, light tends to become polarized, meaning it travels in a more uniform (usually horizontal) direction. This direction creates glare, reducing your visibility. Usually, you'll find lots of glare on roadways or water. Polarised lenses have a special filter that blocks this type of reflected light, so you can see without squinting, and help you to avoid eye health issues like redness, irritation, fatigue, and headaches.
Polarising sunglasses have been popular for years with sailors and fishermen who need to reduce reflected glare from the water surrounding them. Besides sailors, outdoor enthusiasts who benefit the most from polarised sunglasses include skiers, bikers, golfers and joggers, since all of these activities require the elimination of glare for optimum safety and performance. Some light-sensitive people, including post-cataract surgery patients and those continually exposed to bright light through windows, may also choose to wear polarized sunglasses indoors.
Children's sunglasses
Up to 80% of the eye's lifetime exposure to UV light is reached before the age of 18, which makes UV protection particularly important in childhood. Because children's eyes have larger pupils and clearer lenses, they are more susceptible to sun damage. Plus, despite children generally spending more time outdoors than adults, 70% of them still don't wear sunglasses in the UK.
*T&Cs: Minimum spend on spectacles is £99. Cannot be used in conjunction with any other offer.