Team members at Hyde opticians donate 103 pints of blood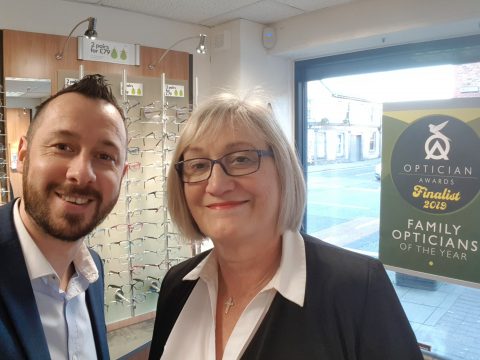 Photo: James Houlihan and Rosemary Walton at L Mitchell Opticians, Hyde
Two members of the team at L Mitchell Opticians in Hyde have donated a whopping 103 pints of blood between them.
Optometrist Rosemary Walton donated her 101stpint of blood on the same day as Lab Manager James Houlihan donated his second.
Rosemary, who began donating blood when she was 18, said: "My mum was a blood donor, so I followed her lead. My son also now donates and has done for a few years.
"An hour of your time once every four months or so can save someone's life so why not do it? Blood, and blood products, are used for all sorts of life-saving treatments such as for cancer, blood loss during surgery or childbirth and in trauma units."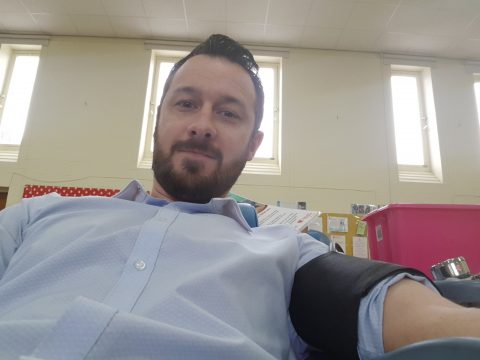 Photo: James Houlihan, Lab Manager for Valli Opticians Group, donating his second pint of blood.
James said: "Donating blood is something that I have thought about doing for a while. So, I thought I would follow in Rosemary's footsteps and take the plunge! A few days after I donated blood, I received a text to say it had been transported over to Wakefield in West Yorkshire to treat a patient at Pinderfields Hospital. It feels good to know that I have helped someone in this way and I even booked in to donate my third pint while I was enjoying my free brew and biccie!"
Karen Ackerley, Managerat Plymouth Grove Blood Donor Centre in Manchester, said: "This is a wonderful achievement by both Rosemary and James. Each blood donation can save the lives of up to three adults, so Rosemary and James have potentially saved or improved the lives of up to 300 people.
"As a long-term donor, we hugely value Rosemary's lifesaving contribution and it is fantastic to hear that she has inspired James to become a donor too.
"We need around 135,000 new blood donors each year to replace those who can no longer donate, and we are very grateful to our loyal donors who give up their time to donate blood. You can visit www.blood.co.uk to make your appointment or find out more information."
L Mitchell Opticians is based in Market Street, Hyde and is part of the Valli Opticians Group.