Valli Opticians Hebden Bridge shortlisted for national award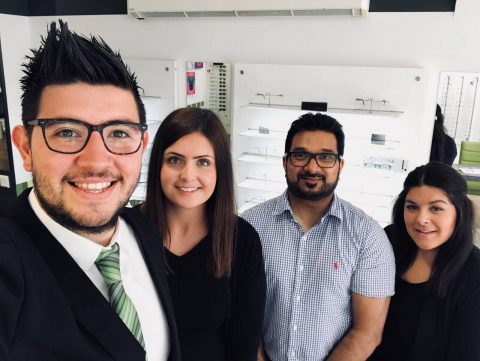 A Hebden Bridge business which recovered after the devastation of the 2015 Boxing Day floods has been shortlisted for a national award.
Just six months after opening on Bridge Gate, in the centre of town, the Valli Opticians practice was devastated by the flooding which also caused misery for thousands of people across Calderdale as Storm Eva battered the region.
It was six months before the practice could re-open and the lack of patients during that time could have had a hugely detrimental effect on the business.
But, despite the closure, the dedicated team at Valli Opticians has ensured the practice has gone from strength to strength.
It has now been shortlisted for Practice of the Year in the AOP (Association of Optometrists) Awards.
The practice is part of the Valli Opticians Group. Managing Director Moin Valli said: "We are delighted that our Hebden Bridge branch has been shortlisted for Practice of the Year. Our team there showed real resilience and determination to rise back after the Boxing Day floods, and build a business that is bigger and stronger than ever before."
Alongside offering excellent eyecare and the latest in optical technology for its patients, including an OCT 3D eye scan machine, Valli Opticians Hebden Bridge is proud to be part of, and support, the local community.
In July 2017 the practice launched 'Vision on Art' Gallery offering local artists the opportunity to exhibit their work. Each exhibition runs for three months and a launch event is held in practice to introduce the new artists.
And in April the practice became the first opticians in the UK to launch a contact lens recycling scheme, providing a much needed recycling initiative.
The AOP Awards recognise the highest levels of achievement in UK optics.
AOP Chief Executive, Henrietta Alderman, said: "The AOP Awards give us the chance to celebrate everyday excellence and outstanding achievement in optics and the 2019 shortlist has once again demonstrated how hard our colleagues across the profession work. I hope that patients and practitioners support the 2019 finalists by casting their vote."
You can vote for Valli Opticians Hebden Bridge in the Practice of the Year category at https://www.mi-vote.com/aopawards19/ before 5pm on December 12. The results will be announced at an awards dinner in London on 13 January 2019.