Valli Opticians launches visionary contact lens recycling scheme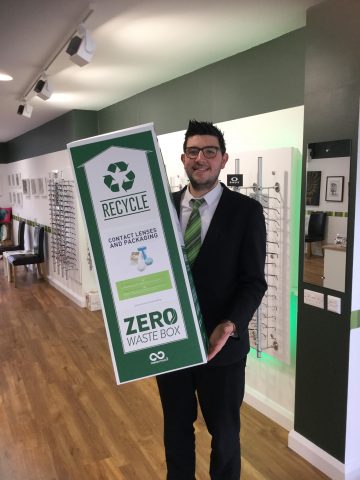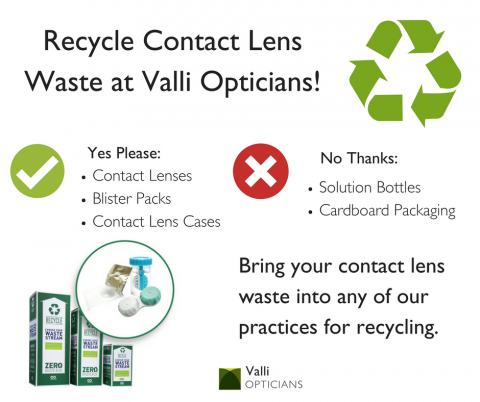 The Valli Group of Opticians is helping to protect the environment by becoming the first in the UK to offer a contact lens recycling scheme.
Contact lens wearers can drop off their used contact lenses, top foil and blister packs in special Zero Waste Boxes at Valli Opticians' 14 practices across Yorkshire, Merseyside, Lancashire, Greater Manchester, Cheshire and Hull.
The Zero Waste Boxes are a paid for solution from recycling company TerraCycle, which specialises in typically hard to recycle waste.  Contact lenses, top foil and blister packs are a mix of complex materials which cannot be recycled by the mainstream UK council kerbside infrastructure.  When the boxes are full Valli Opticians send them back to TerraCycle who separate and then recycle the different materials which are then used to create new products such as durable outdoor furniture.
Rachel Valli, co-founder and Head of Marketing for Valli Opticians, said: "Social responsibility is very important to us as a company and helping to protect our environment is part of that. For years contact lens wearers have struggled to find ways in which to dispose of the lenses ethically without resorting to sending them to landfill.
"Reducing plastic waste is high on the agenda and we're really pleased that we've been able to find a way for people to recycle their contact lenses. Everyone is welcome to drop off their contact lens waste in one of the special Zero Waste Boxes in our 14 practices across the North of England – you don't have to be one of our patients. Together, let's reduce the amount of contact lenses sent to landfill!"
To find you nearest Valli Opticians practice click here:
https://www.valliopticians.co.uk/practices
Solution bottles and cardboard packaging are not accepted in the contact lens recycling boxes.
Photo caption: Mathew Reeves, Assistant Manager at Valli Opticians Hebden Bridge, with one of the recycling boxes.