Valli Opticians on track to complete 1000 Eye Challenge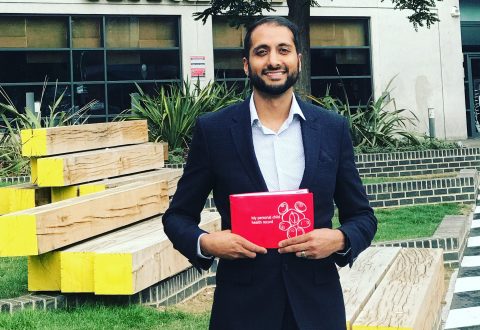 Valli Opticians is well on course to meet its ambitious target of providing free vision screening for 1000 school children by July.
Already this year, Moin Valli, Optometrist and Managing Director of Valli Opticians, has checked the vision of more than 500 reception aged children in Huddersfield schools.
The '1000 Eye Challenge' is the third phase in Valli Opticians' 'Children's Eye Health Matters' campaign. The initiative was launched last summer when Valli Opticians called for a greater emphasis on children's eye health to be included in the Personal Child Health Record (commonly known as the 'red book'). The second phase saw members of the Valli Opticians team delivering talks about eye health to over 4000 school children.
Moin Valli said: "Our #RedBookCampaign and #1000EyeChallenge are all about raising awareness to parents about the services opticians provide and why they are so important.
"Vision screening in schools does not happen in all areas. So, we are offering to go into our local schools, absolutely free of charge, and provide this service ourselves."
Figures released by the Association of Optometrists revealed that 24% of school age children haven't been taken for a sight test and 52% of parents think their child will have a full sight test at primary school. Meanwhile 1 in 7 school children have an undiagnosed vision problem which can impact their learning and development.
Moin added: "Vision screening is carried out only for reception aged children and is only done once. So our advice is that, in addition, children of all ages should have regular eye examinations at their local opticians.
"Eye examinations by an optometrist are a more in-depth investigation of the health of the eye. We recommend that children start having them from the age of three, or sooner if parents suspect there is a problem. Children's eye examinations are free on the NHS up to the age of 16."
Yesterday (Monday 25 March), Moin carried out vision screening of 45 reception aged children at Hillside Primary School in Newsome, Huddersfield.
Nadine Sadler, Head Teacher, said: "The visit from Valli Opticians was superb and will be a real help to ensure all our pupils are able to see well and therefore make as much progress as possible. The visit was easy to arrange and carried out in a very professional way. Moin should be commended in his aim to screen over 1000 reception age pupils each year."
The children loved the visit too! Some of their comments were:
"I liked having the glasses on because I could find all the letters with them."
"It felt a bit cold putting the glasses on, but I could see everything, and I was laughing at the pink glasses and the fish!"
"I loved having my eyes tested."
"It's important so you can see properly and read and learn."
And finally,
"It's good to have your eyes tested so you don't walk into walls!"
Valli Opticians' commitment to family eye care has been recognised nationally as the company has been shortlisted for the Family Optician of the Year in the national Optician Awards 2019. The winner will be announced on March 30.
To sign Valli Opticians' Red Book Campaign petition please follow the link https://www.change.org/p/royal-college-of-paediatrics-and-child-health-valli-opticians-red-book-pchr-campaign-to-raise-awareness-about-children-s-eye-health?recruiter=401460996&utm_source=share_petition&utm_medium=facebook&utm_campaign=share_petition