Valli Opticians Red Book campaign – Sign the Petition!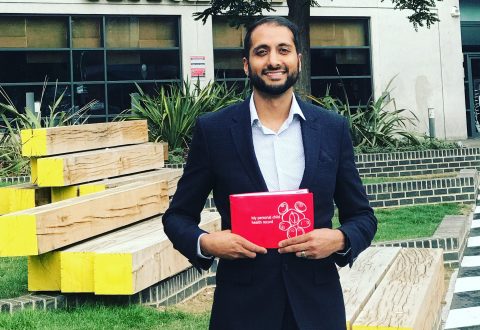 Pictured: Moin Valli, Managing Director of Valli Opticians, with a copy of the 'red book'.
Valli Opticians has today launched a petition in support of its Red Book campaign.
The campaign asks for the Personal Child Health Record (commonly referred to as the 'red book') to include information and advice on the importance of children having regular eye examinations with an Optometrist.
1 in 7 Children have an undiagnosed vision problem that can impact their learning and development. This is around 4 children in every classroom!
There seems to be a general lack of awareness among parents of the importance of regular eye examinations by an Optometrist at an early age.  We believe that one reason for this may be the level of information about children's eye health in the 'red book'.  At present there is no reference to visit an Optometrist for an eye test.
Whilst the current information in the red book is relevant, we are calling for it to be clearer by simply adding:
"You can take your child to see your local Optometrist for regular eye examinations.  Children under 16 are entitled to NHS funded sight tests and an optical voucher.  An optical voucher entitles you to help towards the cost of glasses if they are needed."
Regular eye examinations by an Optometrist are important from a young age as they can detect vision problems and eye conditions.
We feel being an Optician is not about 2 for 1 offers or cut-price glasses, its about educating communities and parents about the importance of having a regular eye test.
The red book is where advice on child care starts for most parents.  This is why this one small change in the 'red book' will make a HUGE difference to so many children.
Please take just a few seconds to make a difference today by signing our petition