Valli Rally 2022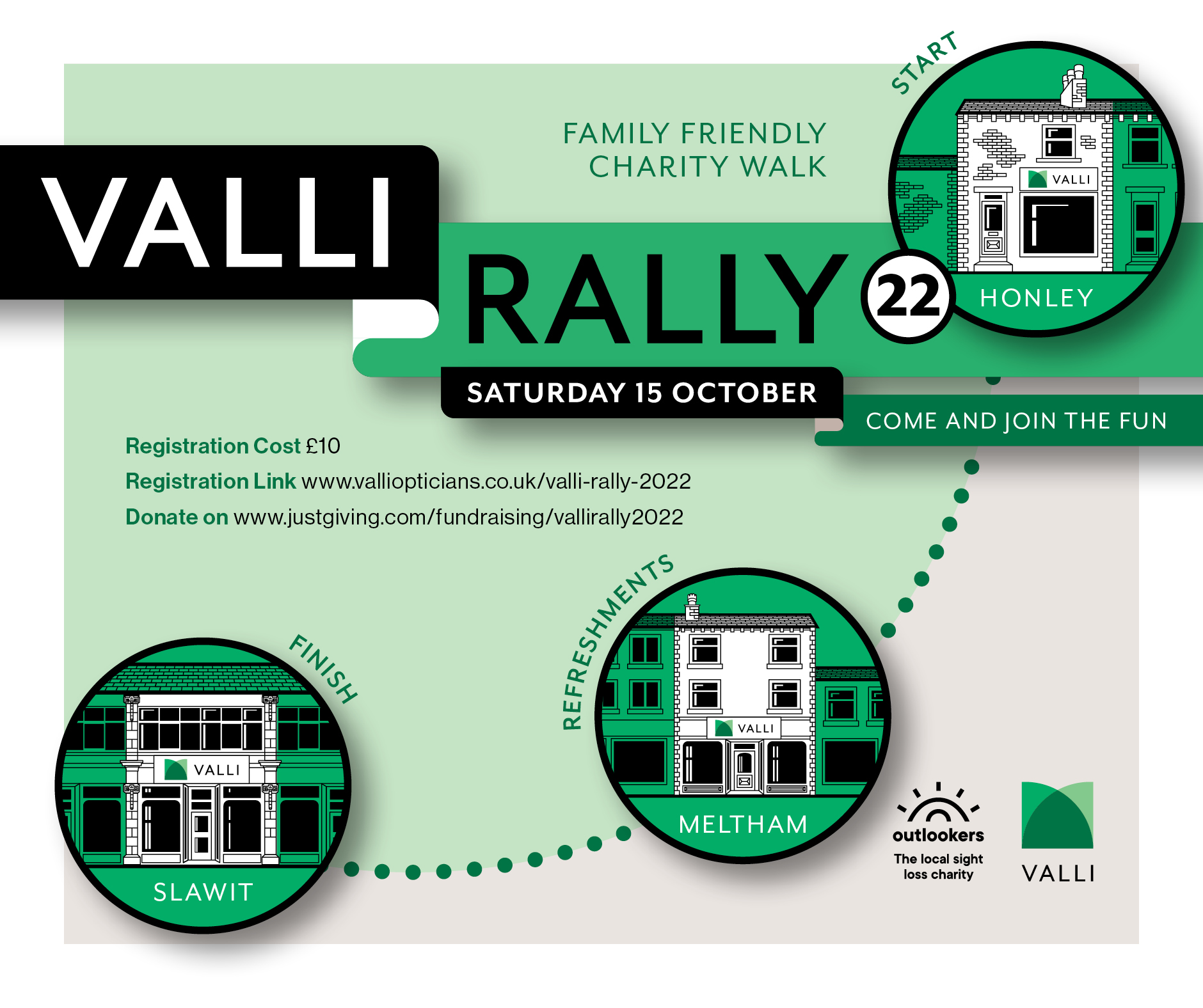 The Valli Rally is back!
On Saturday 15th October 2022, we are holding the Valli Rally charity walk in aid of our favourite charity – Outlookers. The Valli Rally is a 7-mile Huddersfield countryside walk, starting at Valli Opticians in Honley (Holmfirth) and finishing at Valli Opticians in Slaithwaite (Huddersfield), with a stop in between at Valli Opticians in Meltham.
Established in 2008, Outlookers is a network of staff, volunteers and service users who help break down stereotypes of people with sight loss and encourage them to reach their full potential. They offer emotional support, guidance and friendship as well as providing peer support to help people with visual impairments learn to effectively use and make the most of technology such as Amazon Alexa, Google Home and various apps for phones and tablets.
As the charity is user-led, it is run by people with visual impairments and is a real lifeline for people who think they have to give up doing all the things they like due to sight loss.
At the last Valli Rally, over 100 people joined us throughout the day, and we raised £8,000 for Outlookers, so we're looking forward to signing up more people to help raise even more money this year.
To register, please click on this link here.
Once you have registered, you will be emailed a sponsorship form.
To donate, please visit our JustGiving page here.
To find out more about the amazing work Outlookers do, click on this link here.
THE ROUTE AND TIMINGS:
9:30am: Meet at Valli Opticians Honley for registration, 30 Westgate, Honley HD9 6AA

10:00am: Walk to Valli Opticians Meltham, 29 Huddersfield Road, Meltham, HD9 4AF

12:00 noon: Arrive at Valli Opticians Meltham

1:00pm: Walk to Valli Opticians Slaithwaite, 13 Carr Lane, Slaithwaite, HD7 5AN

3:00pm: Arrive at Slaithwaite for refreshments and end of walk