Valli Rally 2023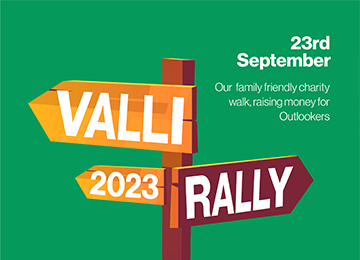 Ladies and gentlemen, time to pull those calendars out and circle the 23rd of September in your favourite colour, why might you ask? Because the Valli Rally is back and better than ever! This time it's our 10th anniversary!
On Saturday the 23rd of September 2023 our annual Valli Rally charity walk shall be taking place in order to raise money for one of our favourite charities – Outlookers, and this year our target is to reach £8,500!
Those walking boots you bought on sale 3 years ago and not looked at since have been patiently waiting for this moment, as this year's walk spans over 7.7 miles! The walk will begin and end at Valli Opticians in Meltham, with a stop at our Netherton Branch and in Honley branch, in-between.
Since being founded in 2008, Outlookers have run support services for people with visual impairments. As a member led organisation, their aim is to enhance the lives of those who are visually impaired through peer support and technology aid as well as breaking down stereotypes surrounding people with vision loss. They offer emotional support, and friendship and also provide training, helping people with visual impairments learn how confidently use and make the most of technology such as Amazon Alexa, Google Home and various apps for phones and tablets.
So come join us as we trek through the beautiful Yorkshire countryside and be a part of an incredible cause, it's also a perfect way to get your steps in and give those fitness watches a pleasant surprise. Tell your family, tell your friends, and get yourselves signed up because come sunshine, rain whatever the weather, walking for charity is always better together.
To register, please click on this link.
Once you have registered, you will be sent a sponsorship form by email.
To donate, please visit our JustGiving page.
To find out more about the amazing work Outlookers do, visit their website.
THE ROUTE AND TIMINGS:
9:30am: REGISTRATION: Meet at Valli Opticians, 29 Huddersfield Road, MELTHAM, Holmfirth, HD9 4AF
10:00am: START of 1st leg
11:00am: ARRIVE at Valli Opticians, 345 Meltham Road, NETHERTON, Huddersfield, HD4 7EH. Continue walk
12:00pm: ARRIVE at Valli Opticians, 30 Westgate, HONLEY, Holmfirth, HD9 6AA. Refreshment break
1:00pm: Start of 2nd leg
2:30pm: ARRIVE back at Valli Opticians, MELTHAM. End of walk and refreshments.