Valli Rally returns to raise funds for visually impaired in Kirklees
We are delighted to announce the Valli Rally 2019, a seven-mile sponsored walk between three of our branches in Huddersfield to raise funds for Kirklees Visual Impairment Network (KVIN).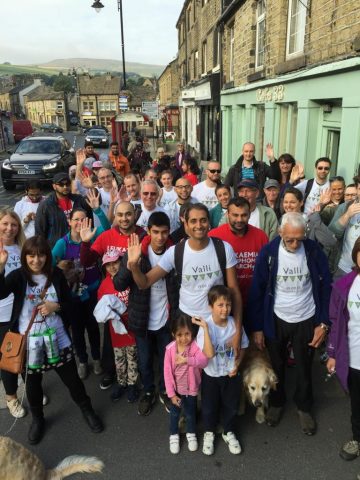 Valli Opticians, run by husband and wife team Moin and Rachel Valli, has organised the walk to start at its branch in Meltham before calling at Honley and finishing at the firm's Almondbury site.
Moin Valli, managing director at Valli Opticians and Trustee at KVIN, explained:
"We're excited to host the third Valli Rally to help raise important funds to support the work of KVIN in Huddersfield.
"A large number of people walking the seven miles between our branches will be visually impaired or blind and access the vital service that KVIN provides to help them make better use of technology to improve their everyday lives."
Established In 2008, Kirklees Visual Impairment Network is a user-led organisation providing peer support to help people with visual impairments learn to effectively use and make the most of technology such as Amazon Alexa, Google Home and various apps for phones and tablets.
In 2017, the charity was awarded a five-year grant from The National Lottery Reaching Communities Fund to extend its drop-in service in order to reach visually impaired people near to where they live.
Mr and Mrs Valli are now calling for individuals and businesses across Huddersfield to get involved and register for the walk, which takes place on Saturday 5October.
Rachel Valli said:
"We're asking as many people as possible to get involved and walk with us. Whether you enter your whole family, join up individually, or want to enter a team from your workplace, we can guarantee fun and a great sense of camaraderie along the route.
"At the last Valli Rally, over 100 people joined us throughout the day and we raised £8,000 for charity, so we're looking forward to signing up more people to help raise even more money this year."
She continued:
"You can choose to walk the full seven miles, or just part of it. If walking's not your thing, we'll be hosting a Yorkshire tea party at each of the three branches along the route, so people can join us for a cuppa and cake while making a donation to KVIN."
David Quarmby, chairman at KVIN, said:
"KVIN is a charity that is run by people with visual impairments to benefit those who have been given the devastating news that they're about to lose their eyesight to eye diseases including glaucoma, cataracts and macular degeneration. It is a real lifeline for people who think they have to give up doing all the things they like.
"We are so pleased that Valli opticians has chosen us as the charity it wants to support this year. It will mean we can purchase some new equipment, which in turn allows us to loan people our older tablets and phones for them to practice on at home.
Entry for the Valli Rally costs £10 with proceeds going to KVIN. To enter, click here
To make a donation click here.