Valli's annual conference fit for royalty!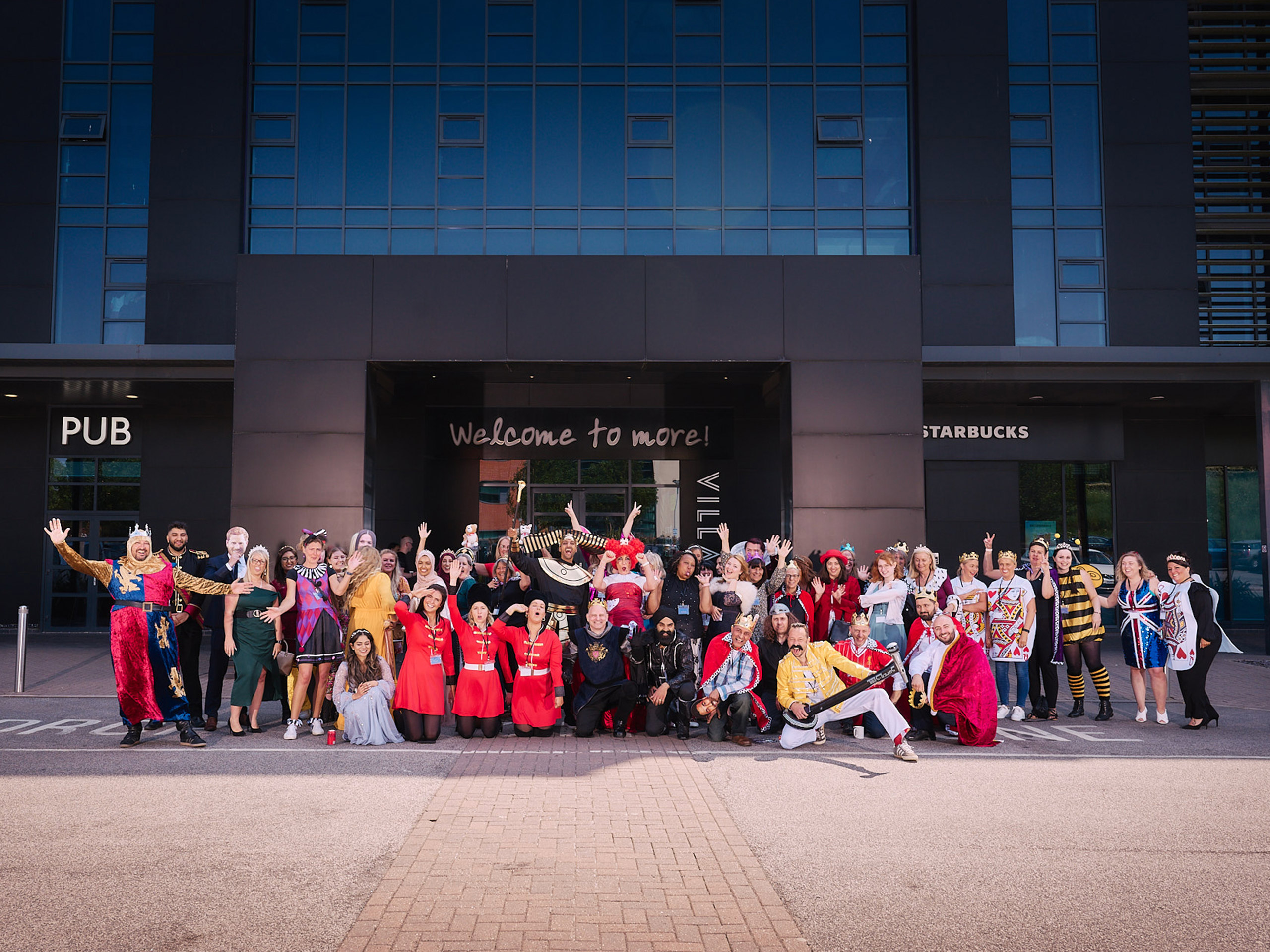 Valli Opticians held their annual conference and awards ceremony on Saturday 10 June with a Royal themed day in recognition of King Charles III's Coronation which occurred earlier this year.
The annual event, hosted at the Village Hotel in Leeds, is an opportunity for Valli employees to celebrate the successes and stand out performances of the year and helping to create stronger relationships with all employees. Speaking about the event, owner, and CEO Moin Valli said: "This is one of my favourite events of the year. We try to ensure the day is full of fun, happiness, and plenty of laughter. We ensure it is not a 'death by PowerPoint' event; instead, all activities are designed to enhance staff engagement and morale, and also at the same time we like to take them slightly out of their comfort zones."
The day began with staff members turning up in their finest royal attire. Kings, Queens, Knights and Pharaohs were seen in attendance along with special appearances from Freddie Mercury and Beyonce Queen B. Daytime sessions included 'The Royal Mint' and 'By Royal Appointment', which focussed on IT training and continual professional development (CPD) sessions.
Following a royal banquet at lunchtime, it was time for the Royal Valli Variety Performance, where teams were tasked with creating and performing a 5-minute sketch. The audience witnessed dancing, poetry reading and acting on stage. Team Sandringham won the coveted trophy for best performance.
In the evening, the Valli Staff Awards ceremony saw accolades given in recognition of stand out performances from stores and individual staff members.
Hoya Lens UK sponsored the event.
The award nominees and winners were:
Royal Variety Performance:
WINNER: Team Sandringham – Lady Eleanor Swystun, Naz Ahmed, Diane Bayirilis, Sam Eastwood (HB), Sohail Luqmaan, Alice Gribble, Heather Mowat, Hafsa Patel
Best Dressed:
WINNER: James Houlihan (dressed as Queen – Freddie Mercury)
Practice Performance of the Year 2022: Nominees – Cheadle, Hebden, Birchwood, Wakefield, Almondbury, Chorlton, Honley, Almondbury
WINNER: Almondbury
Outstanding Attitude of Year 2022: Chloe Starr, Amie McNeill, Katie Howson, Rachel Kinghorn, Nadia Chorianopoulou, Hafsa Patel, Samantha Eastwood
WINNER: Amie McNeill
Kamal Aftab Optometrist of the Year 2022: Zunara Akhtar, Nazmeen Ahmed, Summaiya Bibi, Mariam Khalid, Eleanor Swystun, Nancy Tembo, Richard Ward
WINNER: Nazmeen Ahmed
Hoya Special Recognition Award 2022:
WINNER: Hebden Bridge
Dispenser of the Year 2022: James Houlihan, Laura Whiting, Leena Chauhan, Emily Morris, Lisa Mosley, Josette Musgrave, Jackie Evans
WINNER: James Houlihan
Outstanding Team of the Year 2022: Blackburn, Cheadle, Chorlton, Wakefield, Honley, Hebden Bridge, Almondbury
WINNER: Hebden Bridge
Manager of the Year 2022: Kayleigh Buttle, Laura Whiting, Lisa Mosley, Rachael Marlow, Sanjay Bala, Leena Chauhan
WINNER: Sanjay Bala
Employee of the Year 2022: Sanjay Bala, Rachael Marlow, David Leigh, Rachel Kinghorn, Emily Tomkinson, Aisha Iqbal, Eleanor Swystun, Chloe Starr
WINNER: Rachel Kinghorn