Why you should always have your sunglasses close to hand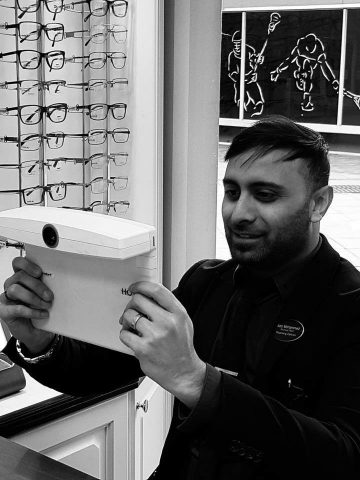 By Aziz Mohammed, Dispensing Optician at Barradells Opticians Cheadle Hulme
"Grab your sunglasses and hit the road."
My sunglasses (polarised) are one of the most essential items that I keep in my car. The elimination of glare from the low winter sun on wet roads gives me the most comfortable vision whilst driving in these conditions.
They're useful for any adventure from a grocery store run to a thousand-mile trip. I think they also give me effortless cool and the jealousy-inducing superpower of hiding my thoughts!
One of the most important travel accessories you should pack — regardless of your destination — is a good pair of shades.
Sunglasses aren't just important for that warm Caribbean escape, they're also vital when you're hitting the slopes. UV rays can be up to eight times more powerful in snowy conditions because of the reflective properties of snow. People with light-coloured eyes, like blue or green, are even more at risk of sunlight-related eye damage. So, wearing a good pair of sunglasses is just as important as applying sun lotion (which, of course, you should also be doing).
Opt for sunglasses that are comfortable and appropriate for where you're going. Make sure the frame is not too tight but instead comfortably snug. You don't want to be running after your sunglasses in case of sudden high winds. Of course, design is important too. Thankfully, there are many quality options on the market which means you won't have to search for long to find a pair that looks cool and protects your eyes.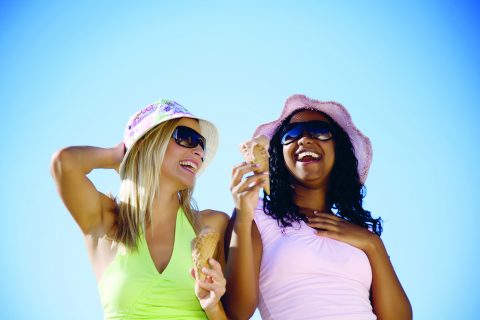 Must-haves for sunglasses
Quality
Did the lens fall out after only a week of owning them? Useless sunglasses.
When you're travelling, quality trumps quantity. Of course, you'll be paying more for quality but you'll recoup your upfront costs in the years to come and your frustration will be minimised.
A £200+ pair of quality sunglasses that last will actually save you money over shelling out £20 three times a year for years on end to replace cheapo sunglasses that break, crumple, and pop out lenses for the fun of it.
Case in point: I've had my Rayban Wayfarer Sunglasses for 7+ years. Still see through lenses? Check. Frames look good? Check. Money well spent? Check.
That's quality, baby.
UV protection
Too much UV exposure has been associated with many long-term eye issues.
The most well-known issue is cataracts. Over years of exposure, UV rays damage the lens inside your eye, making it cloudy as the proteins unravel and tangle (which is what creates cataracts). Surgery is needed to remove those cataracts. Consider your sunglasses preventative medicine.
If that's not a great case for UV protection in your sunglasses, you've got the short-term problems like photokeratitus (aka snow blindness). This condition occurs when light reflects from snow or water, giving your eyes a super dose of UV causing "sunburn."
Look for sunglasses that block 99% or 100% of all UV light. UV absorption up to 400nm equals 100% UV absorption. Your eyes need protection from the sun all year round, even on cloudy days. Cloud cover only reduces the amount of UV light by 10%. In the evenings and mornings we also get more light from reflective surfaces like roads. Because UV is found in the invisible part of the light spectrum, we can't see it or feel it. Look out for glasses carrying the "CE" Mark and British Standard BS EN ISO 12312-1 which ensures the sunglasses offer a safe level of UV protection
Coverage
Know why the celebs don over-sized sunglasses?  There are reasons besides hiding under-eye bags or saving them from looking like startled rabbits in the paparazzi's camera flashes. Those big shades prevent eye wrinkles from forming.
The more eye area your sunglasses cover, the more protection they give your delicate skin around the eye area. Plus, the larger glasses provide extra UV protection by blocking rays that come in from the side, meaning you squint and frown less, minimizing potential wrinkles and frown lines. Wrap-around sunglasses do a great job of blocking the sun's rays from coming in on the sides.
Style
Do you like the look of your sunglasses? You'll be taking lots of pictures with those bad boys on.
Do they make you think of exploring Mayan ruins, sipping caipirinhas on the Brazilian beach, or that road trip you took down to the Grand Canyon?
Make sure your travel sunglasses fit your personality and are tailored to your specific tasks and requirements.
Polarising Lenses
Light usually scatters in all directions. When it's reflected from flat surfaces, light tends to become polarized, meaning it travels in a more uniform (usually horizontal) direction.
This direction creates glare, reducing your visibility. Usually, you'll find lots of glare on roadways or water. Polarised lenses have a special filter that blocks this type of reflected light, so you can see again without squinting. That way you'll avoid eye health issues like redness, irritation, fatigue, and headaches.
Polarising sunglasses have been popular for years with sailors and fishermen who need to reduce reflected glare from the water surrounding them. Besides sailors, outdoor enthusiasts who benefit the most from polarised sunglasses include skiers, bikers, golfers and joggers, since all of these activities require the elimination of glare for optimum safety and performance. Some light-sensitive people, including post-cataract surgerypatients and those continually exposed to bright light through windows, may also choose to wear polarized sunglasses indoors. So, I highly recommend polarising lenses to all my patients!
The myth about "children don't need sunglasses"
Finally, let me expel this myth. Upto 80% of the eye's lifetime exposure to UV light is reached before the age of 18, which makes UV protection particularly important in childhood. Because children's eyeshave larger pupils and clearer lenses, they are more susceptible to sun damage. Plus, despite children generally spending more time outdoors than adults, 70% of them still don't wear sunglasses in the UK.