World Glaucoma Week: Valli Opticians promotes regular eye tests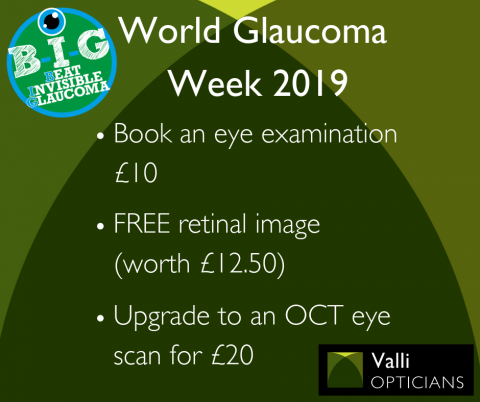 To mark World Glaucoma Week (10-16 March 2019) Valli Opticians is offering all patients that have an appointment booked up to and including this Saturday, and all patients that make a booking during this time:
An eye examination for only £10
A free retinal photo (worth £12.50)
Upgrade to a 3D eye scan for £20 (for Valli Opticians practices that have an OCT machine)
Retinal imaging allows us to take pictures of the back of your eyes. That's really important because it can pick up early signs of conditions like glaucoma, diabetes, hypertension and age-related macular degeneration.
The Advanced OCT 3Deye scan is effectively an ultra sound scan of the eye. It is able to detect conditions that are not always visible in a retinal photo or with conventional methods. Valli Opticians has OCT machines at its practices in Almondbury (Huddersfield), Hebden Bridge,Cheadle Hulmeand Blackburn.
Glaucoma is a disease of the optic nerve which usually occurs in people over the age of 40.
Find out more about glaucoma here.