Sight test detects dad's potentially life-threatening condition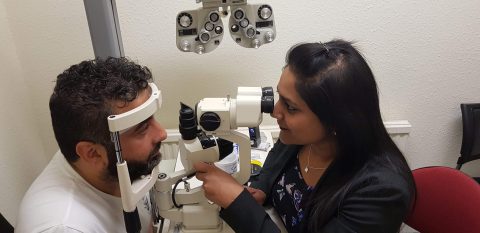 Blackburn dad of three Zamil Munshi is urging people to have regular eye examinations after a local optometrist detected he had a potentially life-threatening condition during a sight test.
Mr Munshi has decided to speak out about his experience ahead of National Eye Health Week (24-30 September).
Mr Munshi, aged 40, attended for an eye examination after the vision in his left eye became blurred. He was examined by optometrist Nazmeen Ahmed at AJ Spurrett Opticians in Richmond Terrace, Blackburn, part of the Valli Group of Opticians.
Ms Ahmed conducted a thorough eye examination including using an OCT machine which produces a 3D scan of the eye. The examination revealed all the symptoms of Grade 4 Hypertensive Retinopathy, which is a sign of dangerously high blood pressure.
She said: "I calmly advised Mr Munshi that there were signs at the back of his eyes which strongly suggested his blood pressure was high and needed urgent medical attention."
Ms Ahmed made an urgent referral to the Royal Blackburn Hospital via the on-call ophthalmologist there and advised Mr Munshi to have his blood pressure checked by a doctor as soon as possible.
The subsequent check confirmed that Mr Munshi's blood pressure was dangerously high and he was admitted to hospital where he remained for 11 days while the pressure gradually returned to an acceptable level.
Ms Ahmed said: "The importance of regular sight tests cannot be stressed enough. In Mr Munshi's case, a healthy young man was going about his daily life totally oblivious of his possibly life-threatening hypertension which showed up through a routine eye scan and by the invaluable OCT scan available at our practice. I strongly recommend the 3D scan to all my patients."
Mr Munshi, a Blackburn based business man, said: "I had noticed a significant change in the vision of my left eye; it had become considerably blurred. But overall, my day to day life continued as usual and these symptoms did not prevent me from continuing with any activities.
"When my blood pressure was found to be extremely high I was admitted to hospital and during this time I also attended the eye clinic there. They informed me that the fluid and haemorrhaging in the eye was all caused by the high blood pressure.
"I now know how important it is to have regular sight tests. In general, my overall health and wellbeing has now improved, as I am taking medication to keep my blood pressure under control. As a result, any discomfort I was feeling is now gone. Coming out of this I will now be certain to make an appointment at the GP, or optician, as soon as I feel any changes in my health. This is because I now realise the importance of regular health checks such as eye tests as they can detect a multitude of serious underlying health issues."