Optometrist welcomed as partner in business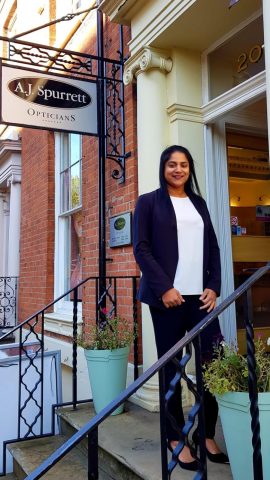 Pictured above: Nazmeen Ahmed
The resident optometrist at AJ Spurrett Opticians in Blackburn town centre has been welcomed as a partner in the business.
Nazmeen Ahmed, who grew up in Blackburn and went to Beardwood High School, has been working at the practice, part of the Valli Group of Opticians, since February 2017.
Moin Valli, Managing Director of the Valli Group, said: "We are delighted to welcome Nazmeen as a partner in the Blackburn practice. As a company we are passionate about nurturing local talent. Nazmeen is a very focussed and dynamic person – a perfect fit for the Valli Group!
"She will be the visible presence at AJ Spurrett Opticians, working in the branch, looking after our customers and the team, and growing the business."
Nazmeen, mum to nine-year-old Sana, said: "From the moment I began working at AJ Spurrett last year I instantly felt at home. The team vibe is awesome and it's an excellent practice. The Valli Group ethos and focus sat very well with me and I embraced the very close knit 'family' setting.
"When Moin propositioned the joint venture partnership I was naturally overwhelmed but immediately interested. It just felt right."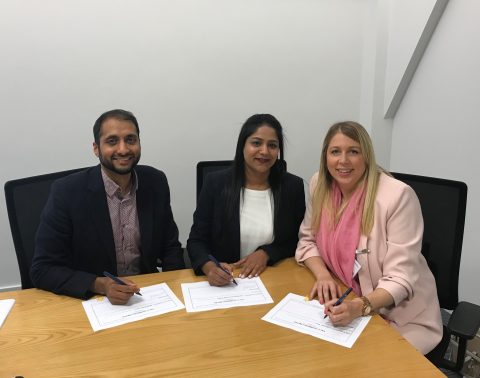 Pictured above: Moin Valli (Valli Group Managing Director), Nazmeen Ahmed (Joint Venture Director and Optometrist at AJ Spurret Opticians) and Rachel Valli (Valli Group Marketing Director)
Nazmeen studied A-Levels at Blackburn College and whilst there took part in work experience at a local opticians – it was then that she realised she wanted to become an optometrist.
"The satisfaction I got from being able to help people see better and to improve their quality of life was amazing and it just cemented the idea," she said.
Nazmeen went on to study optometry at Bradford University graduating in 2004. Whilst working weekends at an opticians practice in the city.
When she returned to Blackburn she became resident optometrist at Dolland and Aitchison (now Boots Opticians) and stayed with the company for eight years before becoming a locum.
Nazmeen, who went to Daisyfied Primary School and Audley Junior School, added: "I am very excited and optimistic about the future with the Valli Group. I believe it will go from strength to strength, especially with the fabulous colleagues I work with and the wonderful patients who visit the practice, many of whom I have got to know over the last 18 months.
"Becoming Joint Venture Director and resident Optometrist at AJ Spurrett Opticians is a hugely proud and inspirational moment for me and for my family and I thank everybody for their support along the way.
"Our passion for delivering exceptional eye care will always remain at the forefront of our focus. l am fully committed to making my lovely Independent Opticians the best in Blackburn and I invite everybody to come and experience the AJ Spurrett journey with me."
You can visit Nazmeen for your eye test at AJ Spurrett Opticians, 20 Richmond Terrace, Blackburn town centre.